Virtono provides reliable and affordable Cloud Web Hosting, Linux VPS, Cloud Virtual Machines and Dedicated servers, Managed and Unmanaged. Find the perfect hosting package for you and get the best cloud Hosting deals today! Instant Activation · 100% SSD · 100% Uptime · 24/7 Support!

Their Services
WEB HOSTING – Starting from €0.80 per month
CLOUD VPS – Starting from €1.24 per month
WINDOWS VPS – Starting from €9.95 per month
Virtono Coupon & Promo Codes on November 2021
There are currently no discount codes available!
Special Cloud VPS Offers
60% discount on yearly payment for Cloud VPS XS Plans => Order Link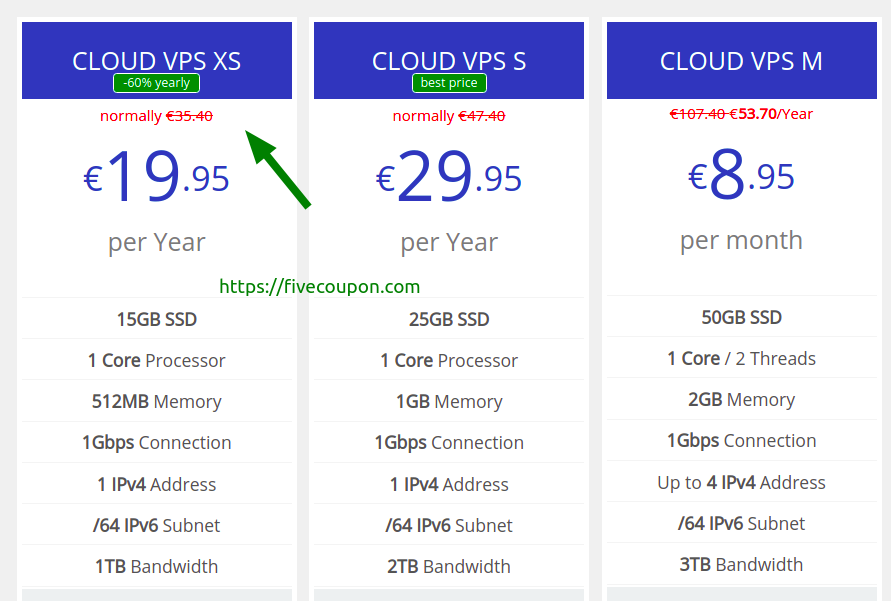 Cloud XS
15GB SSD
1 Core Processor
512MB Memory
1GB RAM burst
1 IPv4 Address
1 IPv6 Address
1TB Bandwidth @ 1Gbps
Insane 60% discount on yearly payment: €19.95/Year
Cloud S
25GB SSD
1 Core Processor
1GB Memory
1Gbps Connection
2 IPv4 Address
2 IPv6 Address
2TB Bandwidth
Starting from 

€3.95 EUR 

Monthly
Insane 50% discount on yearly payment: €29.95/Year
Cloud M
50GB SSD
1 Core Processor
2GB Memory
1Gbps Connection
Up to 4 IPv4 Address
Up to 4 IPv6 Address
3TB Bandwidth
Starting from €8.895 EUR Monthly
Cloud L
80GB SSD
2 Core Processor
4GB Memory
1Gbps Connection
Up to 8 IPv4 Address
Up to 8 IPv6 Address
4TB Bandwidth
Starting from €17.95 EUR Monthly
€215.40 €107.70/Year
Payment Methods
The payment methods are: PayPal, online Credit Card, Skrill, Bitcoin (Bitpay), Bank Wire Transfer.
Network Information
They operate 6 Cloud Locations: Bucharest, RO – Manchester, UK – The Hague, NL – Frankfurt, DE – Miami(FL), US & Dallas(TX), US.
Bucharest, RO
Download test: http://93.119.177.10/1000mb.bin
Test IPv4: 93.119.177.10
Manchester, UK
Download test: http://77.81.107.11/1000mb.bin
Ping – IPv4: 77.81.107.11
The Hague, NL
Download test: http://77.81.110.13/1000mb.bin
Test IPv4: 77.81.110.13
Frankfurt, DE
Download test: http://45.138.97.27/1000mb.bin
Test IPv4: 45.138.97.27
Miami-Fl, US
Download test: http://93.119.178.31/1000mb.bin
Test IPv4: 93.119.178.31
Dallas-TX, US
Download test: http://45.148.9.9/1000mb.bin
Test IPv4: 45.148.9.9
Copenhaga, DK – Only for KVM (Cloud VMs & Dedicated Instances)
Download test: http://185.154.19.103/1000mb.bin
Ping IP: 185.154.19.103
Oslo, NO – Only for KVM (Cloud VMs & Dedicated Instances)
Download test: http://185.154.16.10/1000mb.bin
Ping IP: 185.154.16.10