HostHatch operates in 14 global locations, providing infrastructure-as-a-service to customers from over 100 different countries. With a great team of people working around the clock, they make sure their customers' requirements are our top priority at all times.

Their Services
NVMe Cloud VPS
Storage VPS
HostHatch Coupon & Promo Codes
There are currently no discount codes!
Special NVMe VPS Offers
Promotional Package NVMe 1G
1 CPU core (12.5% dedicated, burstable up to 100%)
1 GB RAM
10 GB NVMe SSD
500 GB bandwidth
$20 per year
Pay for two years – get doubled RAM, storage, and bandwidth
Order Link – SG
Promotional Package NVMe 4G
2 CPU cores (50% dedicated, burstable up to 200%)
4 GB RAM
20 GB NVMe SSD
1 TB bandwidth
$35 per year
Pay for two years – get doubled RAM, storage, and bandwidth
Order Link – SG
Promotional Package NVMe 8G
3 CPU cores (100% dedicated, burstable up to 300%)
8 GB RAM
40 GB NVMe SSD
2 TB bandwidth
$65 per year
Pay for two years – get doubled RAM, storage, and bandwidth
Order Link – SG
Special Storage VPS Offers
KVM-Storage #0.5
1x 2.4+ GHz
512 MB RAM
500 GB disk
2 TB bandwidth
$20 per year
Pay for two years – get doubled RAM and bandwidth
Promotional KVM Storage 2 TB – LAX
1x 2.4+ GHz
1 GB RAM
2 TB disk
8 TB bandwidth
$55 per year
Pay for two years – get doubled RAM and bandwidth
HostHatch Reviews
1. Trustpilot: https://www.trustpilot.com/review/hosthatch.com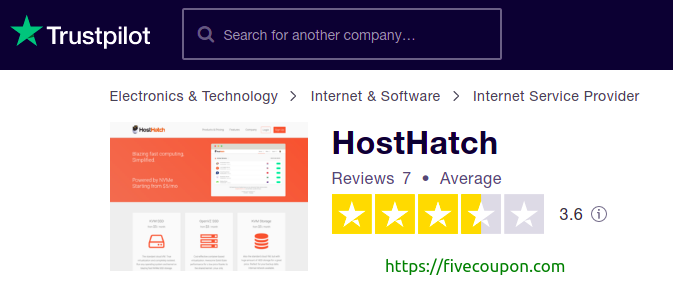 2. WebsitePlanet: https://www.websiteplanet.com/web-hosting/hosthatch/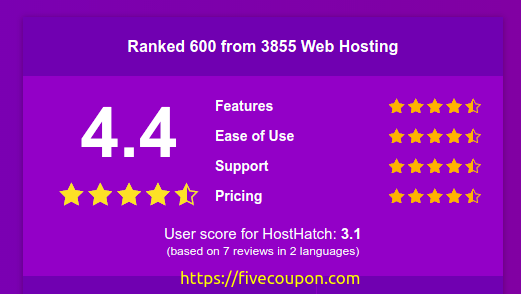 3. LowEndTalk's User:
https://www.lowendtalk.com/discussion/163774/my-hosthatch-review
https://www.lowendtalk.com/discussion/152681/hosthatch-1-year-review
4. WebHostingTalk's User:
https://www.webhostingtalk.com/showthread.php?t=1652795
Payment Information
Credit / Debit / Prepaid Cards
PayPal
Network Information
Please contact them